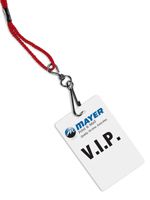 Has the frequency of your print buying gotten you overwhelmed? Need an easier way to do business?
For clients with high-frequency reorders or customers with many distributed offices/branches, Mayer can develop a free, web-based purchasing portal. The online process is a convenient way of securely ordering routine items like business cards and stationery. Even personalized items like business cards can be easily set up and approved for press within minutes. The online ordering system is a perfect fit for corporate identity print programs which may include:
Business cards
Letterhead and envelopes
Medical or production-related forms
Personalized notepads (from the desk of)
Stickers and address labels

What's more, you'll eliminate typesetting costs and errors while maintaining your company's brand identity standards. Simplify your workday, save time, and save a few trees in the process.
For a demonstration and to learn how your company can have its own secure ordering portal with web-to-print capabilities at no cost, please contact a representative at Mayer Print & Mail by calling 1.800.356.2769.