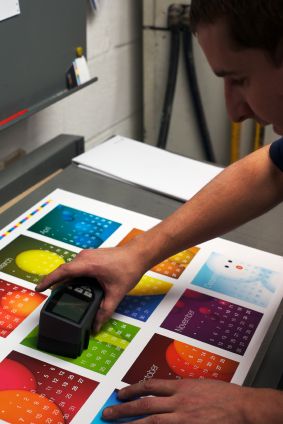 Mayer Print & Mail prefers to receive artwork in the following applications:
• Adobe InDesign® CS3 or lower (Mac or PC)
• Adobe Illustrator® CS3 or lower (Mac or PC)
• Adobe Photoshop® CS3 or lower (Mac or PC)
• QuarkXPress 7.0 (Mac only)
We never want to compromise on the quality that you receive. The industry standard applications above will enable us to reproduce your artwork with optimal results. If your application does not appear on this list, please contact our office with the name and version of your software to verify that we will be able to process your artwork.
Photos & Images: Photos and raster images, including grayscale and duotone images, should be submitted at least 300 dpi at actual size. Bitmap line art images should be at least 600 dpi at actual size. Anything less will result in a poor quality product.
Type: Be sure to outline your fonts or package all fonts and graphics used in your artwork.
Bleed Area: If your finished piece needs to have printing all the way to the edge of your sheet, it means your artwork will need a bleed. The bleed is a 1/8" (0.125") extension of the artwork that extends beyond the edge of the sheet to allow for cutting. For example, a flyer with a final trim area of 8.5" X 11" would be set up as an 8.75" x 11.25" document to accommodate for the bleed. The bleed area will be trimmed off in the finishing process. Please make sure that all the key elements of the artwork, such as text and logos, are placed within the boundaries of the live area (see below).
Live Area: Even when the artwork contains bleed, all the key elements, such as text and logos, should be contained in the live area. The live area is essentially a "safe zone" to ensure there is good balance within the printed product and to mitigate the possibility of cutting type and other critical elements when it is trimmed. The border of the live area should be at least 1/8" (0.125") inside the final trim area. For example, a flyer with a final trim area of 8.5" x 11" should have a maximum live area of 8.25" x 10.75". Spot color jobs without a bleed have a reduced live area and a margin of 0.35" around the image to allow for press gripping.
Spot Colors: For multiple spot color presswork, assign the respective Pantone® spot color to each element for color separation purposes. We highly suggest that you specify your desired PMS colors in writing that accompanies your order so that we may preflight it accurately. Please do not use registration black or blacks made of a CMYK mix.
Submitting Your Artwork
Mayer Print & Mail prefers to receive your artwork through our website's online file upload feature. However, you may e-mail or mail to our business address on CD or DVD. Please note that you may experience difficulty e-mailing files over 5MB in size. They should be uploaded on the website or mailed on CD. Extremely large files should be compressed before uploading.
Easily upload via:
Mayer's online file upload page
Email to:
prepress@mayerlitho.com
Mail to:
Mayer Print & Mail
Prepress Department
1040 Segovia Circle
Placentia, CA 92870